Converting your designs from PSD (PhotoShop Document) format into valid
XHTML markup and CSS stylesheets (Web Pages) has never been easier!
The "My Designer's Edge" graphics page conversion system was created by SkyVault™ specifically to meet your needs.
We are a US-based company assisting businesses, agencies, and designers with
their web programming needs since 1998. We give you pixel-perfect, fully functional
reproductions of your cherished page designs. This is cutting edge, third generation
site building - and it's an art that takes time to master. Don't trust your valuable site to
inexperienced newbies!
For just $99/page for the first page, and $50 for each additional page (on the same order
and based on the same design), you can be free from all your front-end programming worries.
In fact, you never even have to leave your laptop - the entire process is handled online!
Just complete your design in PhotoShop or any other graphics software. Save it in
any common format - PSD, JPG, TIF, PNG, or GIF. We'll slice it strategically for
maximum load speed, and send you optimized images and clean XHTML and CSS
code - complete with scalable tables and/or style sheets. And all of our guaranteed W3C standards compliant work is quality assurance-checked in all the major browsers, screen resolutions, and operating systems.


Why use OUR page conversion service?

The "My Designer's Edge" system gives you four key benefits:
1) Your PhotoShop design concepts will become pixel-perfect web pages
without having to wrestle with HTML, XHTML, CSS, or JavaScript code.

2) You'll be able to add or change content on your sites easily and quickly,
without having to rebuild the whole page.

3) You'll be able to offer web site services to your clients, while outsourcing
your front end programming needs.

4) Your pages will load up to 80% faster - keeping visitors on your site.
Think of it: no software to buy, no courses to learn, and no meetings to attend!
Best of all, your satisfaction is completely guaranteed - your page will work beautifully,
or we'll make it right at no extra charge!


What makes "My Designer's Edge" different from other services?
1) Since we make no changes to your actual design, we don't have to have your PSD files. We can use JPGs, GIFs, TIFs, BMPs, or PNGs! Not only do we promise not to alter your design, we guarantee pixel perfect reproduction of your final design!
2) We practice strategic document conversion, which is much more valuable than
just slicing an image into pieces at random.
3) We analyze your page carefully, planning for your current needs and additional future
needs you may have never even thought of - things like scalability (adding more content
without breaking up the page), and monetizing (the ability to add banners, Adsense-style
ads, email capture forms, and newsfeeds).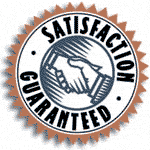 4) We are seasoned, veteran front end programmers. Let us put our
Silicon Valley-honed skills and experience to work for you.
Meanwhile, you concentrate on doing what you enjoy most - designing!
Here's how it works (5 easy steps):
1. Save your Photoshop-type composite page whole as a PSD, JPEG, TIF, PNG, or GIF at highest quality level you're happy with. Email it to us, or just upload it to your web server and email us the URL. order form
2. We'll bill you for a 50% deposit payment via our secure server.
(Pricing: $99 first page, $50 for each additionl page based on same design.)
3. We'll contact you by phone or email the same day deposit is received to confirm your order, verify details, and set a delivery time.
4. We'll complete the page analysis, slicing, XHTML/CSS code conversion, image optimization, and any other work agreed upon.
5. We'll send the finished page directly to your choice: FTP server, web server, email box, or post it on a non-public part of our domain for you to download and use at your convenience.
IT'S THAT EASY! PLACE YOUR ORDER NOW...


click to order
Need a full service web development solution? We can help there, too.
Use our web services request form for all your web development and e-business needs.
Connect with us on:
RELATED TOPICS:
What Does a Production Specialist Do?
What Exactly is Site Maintenance?



Back to Top