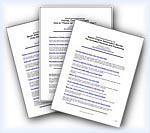 Here's News You Can Use.
To use the Internet effectively in your marketing efforts, you need better information than your competition has.
Here's a detailed FAQ page, along with a collection of articles, links, ebooks, and press releases you'll find valuable.
---
---
Links
SkyVault™ Group Message Board - Post your message here.
Digital Real Estate Library - Learn how to combine real estate with hi-tech tools to literally make a fortune.
Jobs Database - Over 100,000 jobs, including high tech and freelance, available nationwide.
SkyVault™ Free Classifieds - Your ad will appear on our entire network of 19,330 Classified Ad sites.
Adland Free Classifieds - Buy or sell just about anything. Place your ad free.

87 Jewels: Digital Real Estate 'Must-Have' Resources - Lance T. Walker - 87 web sites and tools that should be in your bookmark files - but probably aren't. Learn the secrets the pros use. $19.97 value, yours FREE.
Revenge of the Mininet - Michael Campbell - Work half days and earn more money in a single day, than most average Americans can in a week. Some basic search engine optimization knowledge, a couple of affiliate programs and a simple - but little known - linking strategy are all you need.
Special Report - Want a lazy, quick, and FREE way to generate tens, hundreds, even thousands of fresh new leads and subscribers to your opt-in list every month? Then listen up, because you can become a master list builder almost overnight -- thanks to this unique new system . . .
The Silent Sales Machine Hiding on Ebay - Put eBay on AUTOPILOT! Earn a serious income with a part-time effort.
Traffic Virus 3.0 - Jimmy D. Brown - How to drive thousands of visitors to your web site every day.
Unlimited Profits - Alan Says - Cut through the hype and start making money online.
Unlimited Traffic - Terry Dean - "The Webmaster's Secret Resource to Tens of Thousands of Hits Daily".

February, 2002 - Alameda, CA Chamber of Commerce launces new web site developed by SkyVault™.
April, 2001 - SkyVault™ sponsors special VIP screening of the movie "Bojangles" in Paris, France.
January, 2001 - Powerful Partnership Promotes New E-commerce Solution - SkyVault™ Announces New Strategic Alliance with vShoppingcart™.
January, 2001 - BayInsider.com names SkyVault™ Web Design' web site one of the "Best of the Bay" for design, efficiency, and usefulness.
January, 2001 - SkyVault™ Receives 2000-2001 Golden Web Award from the International Association of Web Masters & Designers.

March, 1999 - "May Day at the Renaissance" - Corporate-sponsored promotional event.
Home • Portfolio • Marketing • Articles • Rates • Contact Us