Incredible Show - Incredible Special -
Get a Professional Web Site for a Price "Fantastique"!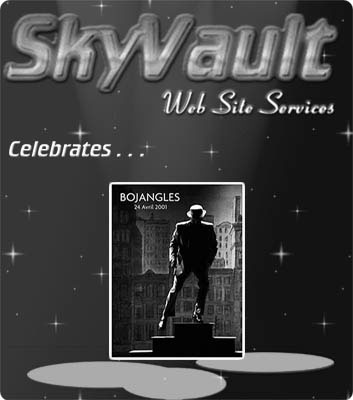 On April 24th, 2001, Café de la Soul hosted a private screening of the acclaimed movie "Bojangles" at the newly renovated Musée Dapper in Paris, France. As the official "Web Magicians" for Café de la Soul, SkyVault celebrates the occasion - with an incredible special for you!
As a VIP invited to this special event, you are now qualified to obtain your very own business web site at an incredible price - but only if you act now! For a limited time, you can get a one-page web site for only 1750FF ($US250) that includes the following:
FREE hosting for 12 months!
Custom design in your choice of colors
2-3 graphic images or photos
Up to 180 words of text
3-4 hyperlinks to sites of your choice
1 email link to you
FREE submission to over 1500 search engines and promotion pages
Remember, this offer is limited. Order your site now by clicking here!