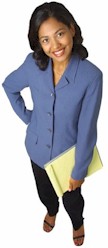 Spiral Marketing affiliates earn 50% commission through ClickBank!
Our affiliate program is FREE to join, and you can instantly generate an ongoing stream of income without any cost or obligation on your part. You don't even need a web site!
We offer 90-day commission for referred customers, a hassle-free revenue system, paychecks every two weeks like clockwork, and real-time sales reports - 24 hours a day, 7 days a week!
It's simple to earn commissions by selling 'Spiral Marketing' on the web, and offline as well. You'll earn a 50% commission on every sale through your affiliate link. Even after ClickBank's small fees, that's a generous $17.98 per sale - just for getting the buyer to this site!
All affiliates are paid through ClickBank and are provided with Real-Time statistics. Clickbank is used by thousands of online merchants and their affiliates.
Ready to get started? It's as easy as 1-2-3, and all you need is a Clickbank ID!
STEP #1) If you are not registered with Clickbank, click here to sign up for free. (Link will open in a new browser window.) Remember the nickname you have assigned yourself, then come back here once your signup is complete.
STEP #2) Once you are registered with Clickbank, enter your nickname in the form below and click 'Generate HTML' to see your affiliate link:
STEP #3) Next, send me the following info to join the program and receive special updates, marketing materials, and future opportunities:
That's it! Welcome to the 'Spiral Marketing' Affiliate Program!
---
Free Mini-Course -- Promoting Your Link:
First, click here and set up a free email address for yourself. Once you start actively promoting online, you'll get a lot of confirmation requests, counteroffers, and just plain spam in your email box. You don't want this stuff cluttering up your main email - so use the free address in all your promotions.
Now, promote your affiliate hoplink everywhere you can! First, use every free advertising method available. Use press releases to offline publications. Write informative articles and send them to online newsletters. Participate in forums, mailing lists, and newsgroups. Place ads on free classified sites, announcement sites, and book promotion sites. Trade links with other sites. If you have a web site, set up CGI programs and create your own Search Engines, Free-For-All Links sites, Forums, and more.
Do everything you can do to start producing a consistent level of traffic. Use ezine advertising, ad swaps, and joint ventures. Then use the profits as investment capital to expand your marketing to paid advertising sources such as flyers, bulletin boards, newspaper classifieds, postcards, direct mail, business cards, magazines, coupon mailers, even radio and TV - the options are endless! *
Here are some fabulous places to start posting your link online. Follow this list, and start promoting your link with a never-ending selection of sites and tools. Most are free, and all are worth your while.
*Note: We hold all of our affiliates to a strict advertising standard. We do not accept promotion of any kind through Spam or any other kind of unsolicited email advertisement, and any affiliate found promoting us using these methods will be promptly removed. If something is illegal or deceptive, do not use it to promote our program.
Don't try to sell the buyer - let your sales page do that. Instead, pre-sell them by giving a review or personal recommendation of the product, then providing the link to your page.
BONUS!! Become a Master Affiliate! Download your free, comprehensive course in Adobe pdf format by clicking here.
Tip: I also highly recommend using your link to purchase and read Spiral Marketing yourself. You'll become much more powerful once you understand the real value of what you're selling. You'll also get it for half price, since you'll be earning a commission on your own purchase. And following the system it recommends is a guaranteed way to propel your affiliate sales to the stratosphere!
Every time a sale is made through your link, you will earn a 50% commission. Commissions are automatically tracked through your link, ensuring you get proper credit for sales you generate. Checks are sent every two weeks. (Be sure to read the terms and conditions page. By reselling my book, you are agreeing to the terms and conditions.)
Remember, the big money goes to marketers who promote with consistency and persistency. If you promote for two hours a day for thirty days, you will earn far more than someone who promotes six or eight hours a day once a month.
Thank you for signing up with my affiliate program. I look forward to a successful, and mutually profitable, partnership with you!
Go Forth and Prosper,
Lance T. Walker
P.S. Statistics say that some affiliates make lots of money, while others never really get going. If you're serious about making big money - or even earning your living - online, here are two additional resources you're going to love having in your arsenal. I've purchased a lot of marketing materials online, and these two get my highest personal recommendation.
| | |
| --- | --- |
| Read the amazing true story of how one woman, with no previous business experience, earns 400,000+ per year ... selling other people's stuff online! Rosalind Gardner guides you through the entire process of building an affiliate marketing business on the 'Net. To learn exactly how she does it, Click Here. | Reach over 1000 Advertising Networks, 2,500,000 Websites and Engines, and 185,000 targeted Ezine Members across the net - day after day - automatically! Just type your ad on your browser, click 'Send', and you're done. This one's a definite must-have. Get Yours |
---
SkyVault™ Multimedia Publishing
7028 W. Waters Ave., #138
Tampa, FL 33634
Fax: (425) 699-4836
Email: admin@skyvaultpublishing.com