Real Estate Investing Articles
Buying Real Estate Foreclosures
Les Bryant
Buying foreclosed properties presents an
opportunity for investors as well as someone
looking to purchase a home, condo, or lot on
which to build, for their personal use. Banks,
Savings Institutions, Mortgage companies,
Insurance Companies all end up with REO
(Real estate owned) inventory that they need
to sell to clear off their books. Many lenders
will offer special financing to qualified buyers
to facilitate a quick transaction
It is important to thoroughly investigate
potential purchases. Many foreclosed
properties have been neglected and may
need significant repairs or rehabilitation.
Those costs need to be factored into the
purchase price equation. Often vacant
properties do not have water, electric or
other utilities turned on so it may be
difficult to determine whether there are
plumbing leaks, electrical or air conditioning
malfunctions or other deficiencies. When
negotiating a contract on such properties
include provisions for inspections with the
utilities on before finalizing the transaction.
If the proposed foreclosure purchase is going to
require repairs, make sure that you have enough
money to adequately undertake the repairs and
carry the negative cash flow during the repair
process. Some lenders will include "rehabilitation
funds" in the mortgage while others may not.
Expect the unexpected. There are always surprises
during any rehabilitation program, especially
foreclosures.
Do your homework prior to entering into any
contract. Check with the local zoning department
to make sure that the property is still zoned and
suitable for the use you intend. Not infrequently,
local jurisdictions will rezone unoccupied property,
particulary if there have been no utilities for some
time. This is particularly likely if a neighborhood is
undergoing considerable change or if a property had
some special zoning exception "grandfathered". I
auctioned a property for a lender in Jacksonville, FL
that had been vacant and without utilites for 2 years.
The property had been operated as a small aprtment
building with eight (1 bedroom, 1 bath) apartments.
In doing our auction preparation we found that the city
had rezoned the property from multifamily to single
family. We had to auction the property as a single
family home. The purchaser had to spend considerable
monies remodeling the house, to remove 7 kitchens
and end up with a workable single family home. When
the original lender made a mortgage on the 8 unit
apartment building their "old" appraisal was for
significantly more than the single family home was
worth. Just because a foreclosure sounds cheap, it
doesn't make it a good buy for you.
Article Source: http://www.articleshine.com

About the Author:
Les Bryant has been a licensed real estate
broker, auctioneer, mortgage broker and
building contractor in Florida for 30 years.
For more information on buying or selling
real estate visit www.realestators.com

---
Real Estate Investing Resource: Rake in $10K or more in 60 Days
Without dealing with a single tenant, smug banker,
or even having your credit pulled.
www.skyvaultpublishing.com/notenants.html
Internet Marketing Resource: Make $500 a week in 15 Minutes
New fail-safe system virtually runs 100% on autopilot.
Earn enough guaranteed cashflow to quit your job in a month.
www.skyvaultpublishing.com/cashvault.html
Real Estate Investing Resource Directory - Learn how quiet fortunes are being made all around you, by everyday people, every day of the week. Forget about the bank's requirements - people who know what's really going on, never use their own cash or credit anyway! What you must have is knowledge - get yours here.
www.reidirectory.skyvaultpublishing.com
Ebusiness Resource Directory - Discover products, tools, tutorials, software, and loads of information you never knew existed. No need to scour the web; take advantage of our years of experience and to build your business model, set up your web site, generate traffic, and create a hands-off residual income.
www.ebizdirectory.skyvaultpublishing.com
Affiliate Products You Can Make Money With - Looking to create income online, but don't have your own product yet? Simple - just sell other people's products, and make a fortune doing it! Here's a selection of quality products you'll be happy to stand behind.
www.affprogdirectory.skyvaultpublishing.com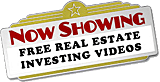 Free Real Estate Investing Videos -
Get Yours Now