Services
Graywolf Consulting is the culmination of 20 years of experience by its founder and its senior staff. Through the years the need to become more creative to successfully complete and close real estate transactions has become evident. In order to achieve this, Graywolf has taken the time to bring together all of the necessary elements in one place with the real estate investor in mind.
Cost -
The cost to become a Graywolf client is only $500. This nominal fee provides you with the best information there is to get you through what could be a complex transaction and a consultant, who will walk you through the entire transaction from start to finish giving you the best information and the confidence you need to succeed in real estate investing.
If it is your intention to commit your time, energy, finances, and efforts towards successful real estate investing, contact Graywolf Consulting Inc. now and begin your journey armed with the best information there is - not just the best you could find.
We remain focused on being the premier real estate investment consulting firm in the country.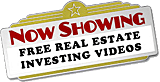 Free Real Estate Investing Videos -
Get Yours Now