JUST RELEASED:
The Secret to Changing Your Future
Without Changing Your Lifestyle!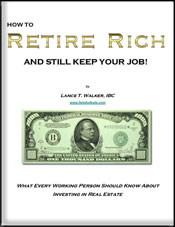 This eye-opening report contains vital
information that every working American
adult should know about investing in real
estate - but probably doesn't.
This short, easy-to-read ebook reveals a simple, but vital concept you need to be
aware of to protect your financial future.
It also comes with some great surprise bonuses, and a free subscription to the
popular wealth building newsletter, the
SkyVault Update™.

"How to Retire Rich and Still Keep Your Job" is now available
for your immediate download. Just click the button below.
(This is a private mailing list and will never be sold or given away for any reason - click here to read our privacy policy. You can also un-subscribe if you ever want.)