The SkyVault™ Update:
Where Real Estate Meets e-Business
Tools, information, and technology for real estate investors.
11/21/03 Edition
====================================================
If you know other Real Estate Entrepreneurs and Investors who would
benefit from this FREE Real Estate Marketing Newsletter, please forward
this issue to them. If someone else has forwarded this issue to you and
you would like an ongoing FREE subscription, please go to: http://www.skyvaultpublishing.com/LDDNet/newsletters.html
Contents:
1. The Truth About "No Money Down" Investing
2. Properties Available
3. Internet Marketing Product Review: ListInferno
====================================================
Hello Everyone,
I hear it all the time; "Can I really buy a house with no money down?"
The answer is, of course you can - but you'd better understand the game
if you're going to play it.
You see, in the real estate business, there are TWO equally important
forms of currency: Money and Time. And the less you have of one, the
more you'd better have of the other. Bottom line.
Money comes in two versions:
• Yours (which we call cash), and
• Someone else's (which we call credit).
Time comes in three basic variations:
• Passive (as in market appreciation of property),
• Active (as in sweat equity, or following up leads), and
• Creative (as in research and study commitment).
Many would-be investors yearn for a no-money-down deal, but think that
making a trip downtown to the courthouse to research opportunities for a
couple of hours is too high a price to pay. The irony is that these same
people work 40 hours a week or more for a fraction of what they could
make on one deal, and think it's normal!
****************************************************
Advertisement:
The first national newspaper in America
in over 20 years is about to be launched -
and you're invited to get in on the ground floor!
Don't miss out on the USA Times!
****************************************************
"No money down" simply means none of your money down. Almost no one
who owns a real estate asset is going to be willing to part with it without at
least some sort of valuable compensation. And if you find someone who
is, I suggest you start looking for a toxic waste dump next door, or that new
highway about to be built. (Oops, that would be research. There's that time
investment thing again. Guess there's no getting around it, huh?)
"Creative financing" is the art of combining alternate forms of real estate
currency in place of cash. Your learning skills, selling skills, negotiating
skills, and just plain nerve will go a long way in determining your success
as a creative investor
Make no mistake about it, however, most of the really good deals will require
at least some cash for you to take advantage of them. Closing costs, HUD
bids, bank-owned properties, even many "motivated sellers" will all require
cash. But what if you don't have any? Then it's time to call in the real secret
weapon: the private lender. And that's the subject of our next newsletter.
- Lance T. Walker, Regional Director
====================================================
****************************************************
Advertisement:
Witness the explosive combination of two of
the largest industries on the planet! Many lives
will be changed - this moment in history will
never happen again! You must see this demo!
Mastery Television
****************************************************
====================================================
Properties Available
New properties-for-sale lists are now up on the VREIA site. Lots of
deals posted, with more coming as fast as we can get them up.
Currently properties are available in the following locations:
Virginia, Florida, Idaho, New York, Texas, Utah, England, and Italy.
If you are interested in a property, contact us immediately - even if it says
"contract pending". Your interest may be precisely what will get you an
excellent deal. We keep some of our purchases, but others we prefer to
quick turn. Happy Hunting - and Let's Do Deals!
- Grace Cheeseman, VREIA President
====================================================
Internet Marketing Product Review: ListInferno
Concept: Adds Thousands Of 100% Opt-In Leads To Your List
Overall Rating: 5 out of 5
Ease of Use: 5 out of 5
Effectiveness: 5 out of 5
Recommendation: Use Immediately - Major List Building Tool
Price: FREE
There is a new development on the net that you need to know about.
Anyone successful on the Internet tells you the gold is in your list. But
what if you can't get that list? What if you're struggling to get just 100
subscribers a week?
Now there's a better solution, that enables anyone to add thousands
of 100% opt-in subscribers to their list, with very little effort.
Technical eMarketer Steve Shaw, the guy behind this tool, says that
ListInferno has been designed to "give everyone and anyone the ability
to create their own big valuable opt-in list ... this system has been
designed to add thousands of opt-in leads to your list for the bare
minimum of effort - and it's all 100% free".
So, does it live up to the hype?
When I first took a look at this tool, I thought, "Well, there are some
systems similar to this one on the net... What makes this one so special?"
Then, when I signed up and followed the process in the Setup Wizard,
the answer was easy to see. There are some subtle differences in this
tool that make it really stand out. And I'd be willing to bet that these
differences may well make this the most viral list building tool yet seen
online.
It's important to realize, that rather than bringing you huge amounts of
traffic, this tool brings you what anyone wanting to make money online
needs even more - quality targeted 100% opt-in leads for your list.
This new free tool could well be the easiest, cheapest and fastest way
to build your list yet developed. In fact, by jumping on board with this
as soon as possible, you could gain a strong advantage over your
competitors.
And if they are already signed up, that's even more reason not to waste
any more time. After all, the one with the biggest list usually wins, and
makes the most money.
Definitely ride the wave on this:
ListInferno - thousands of 100% opt-in leads for your list
Listen, I've tried this out myself - it's so easy and so effective, it would
be pretty dumb not to use it immediately. Anything that can give you free
subscribers for virtually zero effort is worth a try - and this system can
give you lots of those.
Bottom Line: This is probably the most effective list building system we
have ever encountered - and quite possibly there will never be anything
like this again. We mean that. We just hope it stays free... You should
get it now while it still is.
ListInferno - thousands of 100% opt-in leads for your list
====================================================
****************************************************
Advertisement:
Not interested in spending thousands to fix up
somebody's broken-down home and hope you
can make a profit? Good! Here's a way to buy
real estate for next to no money down, and
either move in yourself or sell it for at least
$3000 - $10,000 profit this month - regardless
of your credit! Curious? Here's what you need to
know... Real estate with no credit checks
****************************************************
Invest Powerfully and Well,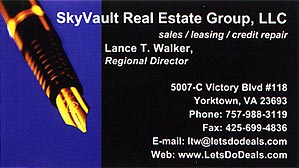 Like This Resource? Recommend it to a friend, and you could
win $10,000! Click here: Recommend This Site
*****************************************************************************
All content copyright © 2003 by SkyVault™ Real Estate Group, LLC.
We accept no responsibility whatsoever for the content, profitability,
or legality of any third-party articles or ads published in the SkyVault™
Update.
Although every article has been selected for its content, the publishing
of any articles within this ezine does NOT constitute a recommendation
of the products or services mentioned *within* those articles.
You have received this email because: you are a member
of the SkyVault™ Real Estate Group or the Virginia Real Estate
Investors Association, you have asked to join the VREIA or
SkyVaultT mailing list, you are a registered visitor to one of our
web sites, you have attended one of our seminars, you have been
referred by one of our members, you have expressed to one of our
members an interest in real estate investing, wealth building, Internet
marketing, credit repair, or web site development, or you have made
a purchase or otherwise have an existing relationship with us. We
may have contacted you based on information provided on your web
site. To be removed from this list, simply send a blank email to
unsub@letsdodeals.net with the word "Remove" in the subject line.
*****************************************************************************

letsdodeals.net: Helping you create a wealth-based retirement by combining hi-tech tools
with time-tested real estate investing techniques.