The SkyVault™ Update:
Where Real Estate Meets e-Business
Tools, information, and technology for real estate investors.
11/15/03 Edition
====================================================
If you know other Real Estate Entrepreneurs and Investors who would
benefit from this FREE Real Estate Marketing Newsletter, please forward
this issue to them. If someone else has forwarded this issue to you and
you would like an ongoing FREE subscription, please go to: http://www.skyvaultpublishing.com/LDDNet/newsletters.html

Contents:

1. Free software for all subscribers
2. New Alexa rankings for letsdodeals.net
====================================================
Hello Everyone,
I'm happy to report the promotion for our newsletter, The SkyVault Update,
has been a smashing success, doubling our circulation in the last 30 days.
Welcome to all the new readers!
At the same time, thanks to you, letsdodeals.net has become one of the
hottest sites on the net. The site is currently ranked at 259,852 out of
3.5 billion, putting us in the top 1% of all sites on the web! (Verify here):
Alexa Ranking for letsdodeals.net
Seems there was one little glitch, however. Apparently some of you did not
automatically receive your complimentary software as promised. Since there's
no way to tell who got theirs and who didn't, we made the only logical choice;
everybody on the entire mailing list is now invited to download the goodies!
Just go here: http://www.skyvaultpublishing.com/LDDNet/welcome.html and it's all yours.
We've even added some extra bonuses for those of you who already have the
software - as a way of saying thank you.
Your confidence is greatly appreciated. Now, Let's Do Deals!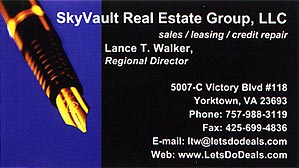 P.S. - SPECIAL REPORT! Want a lazy, quick, and FREE way to generate tens, hundreds, even thousands of fresh new leads and subscribers to your opt-in list every month? Then listen up, because you can become a master list builder almost overnight -- thanks to this unique new system . . .here

Like This Resource? Recommend it to a friend, and you could
win $10,000! Click here:
http://www.recommend-it.com/p.e?880673
*****************************************************************************
You have received this email because: you are a member
of the SkyVault™ Real Estate Group or the Virginia Real Estate
Investors Association, you have asked to join the VREIA or
SkyVaultT mailing list, you are a registered visitor to one of our
web sites, you have attended one of our seminars, you have been
referred by one of our members, you have expressed to one of our
members an interest in real estate investing, wealth building, Internet
marketing, credit repair, or web site development, or you have made
a purchase or otherwise have an existing relationship with us. We
may have contacted you based on information provided on your web
site. To be removed from this list, simply send a blank email to
unsub@letsdodeals.net with the word "Remove" in the subject line.
*****************************************************************************