When we want to be remembered, there are some gifts that just stand out above all the others. Naming a Star
after someone close to us can be a unique and wonderful option. However. . .
Have you ever gazed up at the midnight sky, bathed in the incredible glow of brilliant silver light, looked at your sweetheart and thought, "I would give you the moon if I could"?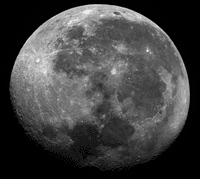 Well, guess what? Now you CAN!
That's right! Now for a limited time, you can buy land on the Moon - AND for a heavenly price! There are over 1,125,000 lunar land owners from 176 countries around the world. To date more than 300 million acres have been issued to people from all walks of life here on planet Earth.
► You really can buy land on the moon!
► Over 1.1 Million Lunar Land Owners!
► Makes a great gift for loved ones!
► Perfect investment for the future.
► Two former US Presidents own lunar land!
► Even Employees of NASA are owners!
► Famous Movie Stars are owners!
► Makes a great conversation piece!
► Its Symbolic and Romantic!
► See your investment almost every night!
You really can own a piece of the Moon!
If this sounds like a joke to you, please read on, because this is no joke. The sale of lunar property has been ongoing for 22 years by the Lunar Embassy, which is THE ONLY COMPANY in the world to possess a legal basis for the sale of lunar, and other extraterrestrial property within the confines of our solar system. Lunar Embassy has authorized the SkyVault™ Real Estate Group, LLC to sell Lunar Property exclusively through our web gateway, letsdodeals.net!
At the time of writing, the Lunar Embassy has appeared on TV in over 180 countries worldwide on approximately 80 different TV channels, including CNN International, RTL, NBC and Australia Channel 9 to name just a few. There have been hundreds of press articles and radio shows covering the Lunar Embassy and its offers, which are literally, out of this world. Further, the Lunar Embassy has also received many reviews in magazines, journals and newspapers around the world.
The biggest support of this claim has been in the form of actual lunar landowners such as two former US presidents, NASA employees and many well-known celebrities.
Who actually buys Land on the Moon?
The short answer is: EVERYONE. While the list of clients is confidential, we can reveal that approximately 250 very well known celebrities as well as two former US presidents are now extraterrestrial property owners. This includes approximately 15 main actors from the original Star Trek series, as well as the Next Generation and Voyager series.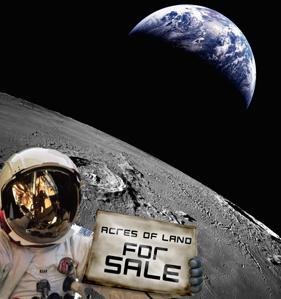 Many companies purchase lunar properties to give to their customers. Lovers buy them as gifts for their loved ones. Investors buy them for their children. School kids buy them for charity, resell them, and then give thousands of dollars to cancer research. (Yes, this happened recently.) The list of people who buy them is endless. Dentists, lawyers, nurses, space hobbyists, trekkers, doctors, taxi drivers, policemen and up to now, about 30 NASA employees. At the last count over 1,137,262 people are already proud owners of their extraterrestrial property, with properties on the Moon being the hot forerunner of course (because these are the only properties you can easily see from Earth).
Check out what some of our customers
are saying...
Wow! I bought 5 acres for my father for his birthday. Boy was he surprised! He is an astrology nut. He really loves to look at the night sky with his telescopes. I believe it was the best gift I ever bought him! Thank you for allowing me to get him such a great birthday present!
- William Edwards, Hobart, IN
When I first heard about property on the Moon for sale, I laughed out loud! But then a thought about it for a few moments, and realized that I have 2 sons and 1 daughter. It would make a great investment for their future, or even my grandchildren's future. So I ordered several acres and couldn't be more happier! I am recommending this to my friends and people I work with.
- Jeff Miller, Richmond, VA
I really thought this was another scam that found me. I am happy to say that I am wrong. My order arrived in a timely fashion and everything you said I got. I am definitely going to place another order for more, Christmas is right around the corner. :) Thank you very much!
- Jacquelyn Harper, Detroit, MI
I just wanted to say that my family thinks I am nuts for buying land on the moon. But after I received my deeds and the lunar maps I showed them all. I also told them my name will be left on the moon too. They are so jealous now! LOL! Now they all want to buy land too! This is so cool, thanks guys!
- Dan Hess, Chicago, IL

Don't wait! Lunar Property is being sold at an alarming rate!
Check The Availability Of
Lunar Property Instantly!